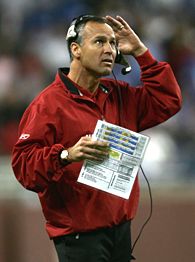 San Francisco 49ers head coach Mike Nolan, it appears, will live to coach another season – but with stipulations. According to Michael Silver of Yahoo! Sports, Nolan will get to retain his head coaching job but will no longer have the final say about personnel decisions. It took 2 days of deliberations, of which the final decision was made on Tuesday by team owners John and Denise DeBartolo York.
The leading contender for the general manager position which Nolan held since he was hired as head coach would probably be team vice president of player personnel Scott McCoughlan. Ironically, Nolan hired McCoughlan under the premise that he would function well under a structure where the head coach had final authority on all personnel decisions. After today's news, expect a "role-reversal" to take place. Nolan met with current offensive coordinator Jim Hostler Tuesday, who probably will be fired by the 49ers after only 1 season. Another possible reason that Nolan probably kept his coaching job is that Nolan was willing to smooth over what was once rocky relations with team quarterback Alex Smith. What's ironic about all of this is that Nolan's South Park-like "Respect Mah Authoritahh!!!" attitude – a running joke in the 49ers locker room – almost did Nolan in.
Take it for what it's worth, but the 49ers never seriously considered assistant head coach Mike Singletary. Why they didn't I have no idea, but the very least they could've done was considered him. But then again, I expect Singletary to find a head coaching gig with some fortunate team this season; Singletary, unlike Nolan, will command and actually get respect within the locker room. The Atlanta Falcons and Baltimore Ravens are probably at this point the leading teams looking for a head coach. But at the end of the day, this is probably the less of all the possible evils that were facing the 49ers regarding Nolan. And I will say this – if the 49ers do not see the postseason in 2008 – then Nolan is good as gone.