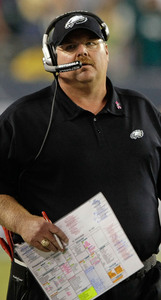 Forget the notion of Eagles head coach Andy Ried taking the head coaching job in 2008 with the Atlanta Falcons. Reid's name came up almost immediately after Bobby Petrino high-tailed it out of Georgia on Tuesday, and by early Wednesday the Eagles coach was mentioned just about everywhere as a possible replacement once the 2008 season kicks off for the new man to lead Atlanta.
Not going to happen.
Despite being close with Falcons owner Arthur Blank, Reid will be staying put with the Eagles. He is not close to being fired, despite the fact the team is almost certain to miss the playoffs, and has a contract with the club that will keep him around for awhile. There was talk earlier in the year that Reid would simply walk away from head coaching due to the family problems his two sons, who are in jail now, have put the Reid family through.
But Reid has all season stated that he wants to stay with the Eagles, and even Wednesday during a conference call with the Dallas media said that he is happy in Philly and wants to stick around. Reid did seem to feel bad for the situation that Petrino has put the Falcons through. "The ones I probably feel the worst for are the players and the assistant coaches," Reid said Wednesday. "You forget about the small things. Your assistant coaches went out and spent a lot of money on homes in the area – thinking they were going to be there for a couple years at least – then the players for getting revved up and playing for the person. So it's a tough situation that they're going through right now, especially with all the other things going on. But they'll work it out."
So for now, unless some huge circumstances pop up, count Reid off the list for a possible trip to Atlanta to be the new head man for the Falcons.