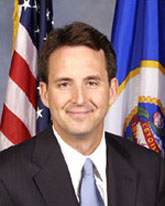 Will the Minnesota Vikings become the next NFL team to relocate? According to the Minneapolis Star-Tribune, state leaders in Minnesota will likely not consider plans for a new stadium for the Vikings during the 2008 legislative session. This decision could lead to some motivation for potential suitors to lure the team out of Minnesota.
One of the complications in getting a stadium built is that it typically takes four years to complete the stadium, from beginning to the opening. The Vikings lease expires after 2011, but because the Minnesota legislature tabled the decision for 2008, the earliest the stadium could be built is 2009 – which means the completion date would be 2013.
During a meeting with Eric Grubman, the NFL's executive vice president of finance and strategic transactions, and other league executives, Minnesota governor Tim Pawlenty and members of the state's legislature explained that they have "other priorities right now" and that it is highly unlikely there will be any support for public financing of a stadium. Vikings owner Zygi Wilf has personally pledged $250 million towards the proposed retractable roof facility, but has yet to propose a financing plan for the public's share of financing – which is expected to be around $700 million.
Since it appears that 2009 is the earliest that the Minnesota legislature will revisit the issue, the NFL, in my opinion, needs to get more proactive between now and 2009, in order to stall any relocation intentions. Wilf has said on more than one occasion that he would rather prefer that the team remain in Minnesota; that's good news, except that the state legislature may be forcing Wilf's hand in this matter. Also – Governor Pawlenty's statement about there being no support for a stadium – where is this alleged "lack of support" coming from? I obviously do not know the specifics of the financing of the proposed stadium nor do I know what makes Minnesota government tick. But it seems to me that this was an issue that should have been addressed back in 2006, even earlier. Coincidently or not, Governor Pawlenty is up for re-election in 2010.