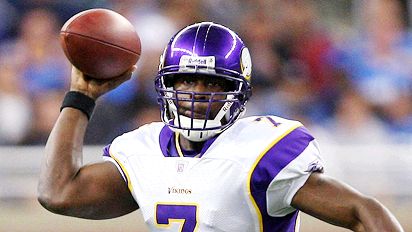 Injuries are once again hampering the already poor play of Vikings QB Tavaris Jackson, as the team announced today that he has a broken finger on his throwing hand. The injury came during Sunday's 24-14 loss to the Cowboys, in a game where Jackson was awful, hitting on just six passes for 72 yards. He was wearing a small splint on his hand Monday. He claimed he hurt it in the third quarter when his hand hit another players arm, and then he hurt it again near the end of the loss.
For some wild reason, head coach Brad Childress stated Monday that Jackson would still be the starting QB if he is healthy enough to go Sunday at home against the Eagles. Why at this point Childress would not just sit Jackson for his own good and go with Kelly Holcomb for the next few weeks. Holcomb, while not a guy that is going to make heads turn, has been steady in the few games he has played in, and his 70.9 QB rating is well above Jackson's 48.7 rating.
Right now the Vikings offense is in stall mode, as Sunday they got away from running the ball enough with Adrain Peterson. Jackson also has to hang on his head what appeared to be heated words between he and Childress on the sidelines, as well as he and wide out Bobby Wade. "I just let him feel my emotion, in terms of what he needed to do with the football," Childress said, describing what happened.
If the Vikings are going to take the next step at all in the NFC North, it might be time for Jackson to let his finger heal, for him to sit back and watch, and then hopefully be ready to go in a few weeks with a little more patience and experience at taking his time and letting the game come to him instead of forcing plays.