40 members of the Chargers had to be evacuated Monday due to the wildfires that are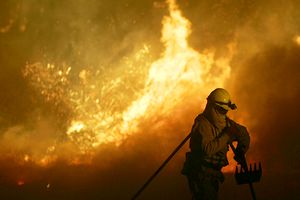 currently burning in San Diego County. Among those that were forced to leave was current NFL MVP LaDainian Tomlinson. Right now the state of the Chargers game this Sunday at home against the Houston Texans is up in the air, and the rest of the week the team will practice in Arizona, and may end up playing the game there as the Cardinals are on the bye week this Sunday.
"Our overwhelming priority now is the safety of our players and staff and their families," the Chargers said in a statement. "Our prayers are with everyone who is impacted by this tragedy." It was four years to the week that the Chargers were forced to move a game to Tempe due to wildfires in San Diego County. About 250,000 have been evacuated due to the wildfires that are being fanned by the desert winds.
"It's pretty humbling, for sure," Chargers center Nick Hardwick said. "You've got guys with families dealing with real situations. You don't normally expect that coming to work. Normally, the worst-case scenario is when you miss a block or something, but if your house is burning down and you have to get your family out of the city, that's a different issue."