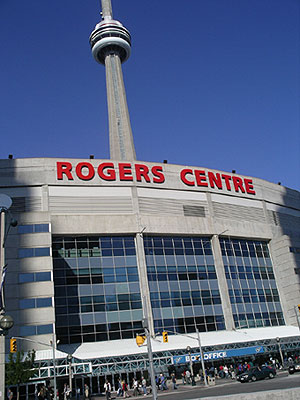 The Buffalo Bills have a loyal fan base, but that is not stopping the team from looking at the shot to play a preseason game and one regular season game in Toronto. The team is explaining that they are looking to expand its market base beyond Western New York. They need both county and state approval to play their home games away from their home – Ralph Wilson Stadium. A press release out today by the team said: "The team hopes to capitalize on the increasing interest of fans in the Canadian market by playing a regular-season game in Toronto."
There has been an underlying tone that the Bills would like to leave Buffalo for good and move to Toronto, and the league is watering at the mouth with the thought as they want to expand the game outside of the states, which is one reason they have toyed with the idea of each team playing a regular season game overseas or in Mexico. Don't forget that the Giants and Dolphins will play a regular season game in London next weekend.
As far as the Bills go, they would play their games at Rogers Center, a downtown stadium with a retractable roof that serves as home to baseball's Blue Jays and the Canadian Football League Argonauts. The Bills state they already have a large fan base from Canada, about 15,000 per home game. The team also stated that just because they want to play some games in Toronto, it should not be thought that the team is looking to move to Toronto for good. We'll see.