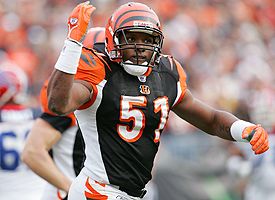 Suspended Bengals linebacker Odell Thurman is taking an unusual stance in trying to get back on the playing field. The linebacker has filed a complaint against the NFL with the Equal Employment Opportunity Commission, stating that the league didn't reinstate him because they feel he is an alcoholic. If that is the case, Thurman says that the league is violating the Americans with Disabilities Act, which categorizes people as disabled if they have a record of alcoholism and have received treatment.
Thurman had been suspended for the first four games of the 2006 season after violating the league's substance abuse policy, then was suspended for the remainder of the year after a D.U.I arrest. He was up for reinstatement during the offseason, and many felt he would be back in the league, which is why it came to a shock to many when the league passed down that he would be suspended again for the entire 2007 season.
"The crux of the complaint is that they have a disability and they are not being reinstated because of that disability," said Paul M. Secunda, a labor and employment law expert who edits the Workplace Prof Blog. "What we're talking about is the disability of the player and the rights of the employer to run the N.F.L. as they see fit. It's, where does the D.U.I. fit it" Does the league have the right to take further action beyond what the criminal court system does"
The league is standing by it's ruling, and Greg Aiello, an N.F.L. spokesman stated ?We have operated our program successfully for almost two decades and are fully confident that our policies are consistent with the law." It's never a good idea to take the National Football League to court – just ask the USFL. If Thurman wants to get back in the good graces of the league and have a shot at playing in 2008, his best bet is to stay in shape, stay out of trouble, and do what he can to make the best case he can for himself to be back on the field next season.