A serious lack of offense, no real big plays, and now some possible injuries. Welcome to the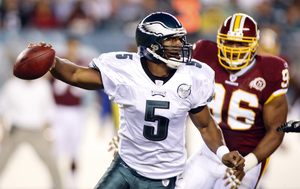 meltdown that is the Philadelphia Eagles. Following Monday night's 20-12 loss to the equally punchless Washington Redskins, the Eagles are trying to look ahead and not behind, and will try to pick up the pieces this Sunday when they host the surprising 2-0 Detroit Lions at home. How the Eagles will come out will be critical, as right now they look like a team that is in somewhat chaos.
Monday night the offense drove the ball well against the Redskins defense, but just like opening day vs the Packers, they simply could not finish. They had the ball 1st-and-10 from the Skins 13 late in the game with a shot to go in for a score and possible tie with a two-point conversion, but once again, could not get it done. If your counting at home, the Eagles have scored just one touchdown in two games, not a sign of a team ready for a Super Bowl run.
Part of the problem has to be pointed at quarterback Donovan McNabb. The team is an unreal 1-6 in McNabb's last seven games as the Eagles starter at quarterback. It appears that age, as well as the injuries that he has suffered over the past several seasons, are finally making McNabb into a quarterback that can no longer rely on his legs to save him. Take into account that in two games, the Eagles have had just two passing plays that have went for 20 yards or more. Can someone, anyone on this team make a play when they need it? Last year after two games Philly had 12 passing plays of 20 yards or more.
The wide outs are not as good as in the past, as there is no Terrell Owens type talent on this team, and even last years solid play of Donte' Stallworth is not around, as he now plays in New England. Reggie Brown is a nice wide out, but not a star, and even a guy like L.J. Smith can't have that impact as he is still trying to come back 100 percent from his sports-hernia injury. Brian Westbrook is still the teams best playmaker, but he hurt his knee on Monday night, even though coach Andy Reid says it does not look serious.
Maybe all of us, and there were plenty, that felt that McNabb would be like the McNabb of old, were just not thinking about Father Time as well as the impact all the injuries have had on him. The scary thing for Philly now is that if they want to turn to someone else to lead the ship, they don't have that veteran spark plug like Jeff Garcia a season ago, as he is now in Tampa Bay. The last time the Eagles started out 0-2, they rebounded to go 12-4. That mojo the Eagles had that season just does not appear to be evident in 2007. At least not until McNabb and the offense start to show signs of coming out of their funk.