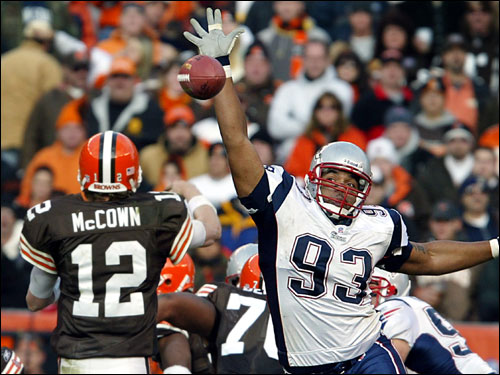 All-World Defensive Lineman Richard Seymour may miss more than the first six weeks of the season — significantly more. The unconfirmed reports are "legit" just like Hammer (MC), and were first talked about on profootballtalk.com (getting stronger), that Seymour's recovery from off-season knee surgery has been slowed because something went wrong during the arthroscopic procedure, and that he could miss the entire season.
On Saturday, Seymour was placed on the "PUP" list, which sidelines him for at least the first six weeks of the season. At any time between weeks six and nine, the Patriots can open a 21-day window for Seymour to get him on the practice field. At the end of the three weeks, they must activate Seymour to the 53-man roster or place him on season-ending injured reserve. It is worth noting that Patriots players recently selected their team captains. Seymour, a captain in each of the previous four seasons, is believed not to be among them. Instead, Ty Warren (Texas A&M) represents the defensive line.
These whispers that Seymour (knee) may be out longer than the six weeks required by his placement on the PUP list, are reported by the Boston Herald, Boston Globe, TheRedZone.org, Yahoo Sports, Providence Journal, and along with the team's official website – Patriots.com. As capable of a replacement as Jarvis Green (LSU) is, he is not as dominant as the Georgia Bulldog (more in real term productivity, than numbers-wise) and the Pro Bowler's absence added with the suspension of Rodney Harrison, is enough for the Pats' team D to get a bit of a short-term downgrade. This news may be enough to pull the Patriots away from serious Super Bowl consideration (sorry – Tom Brady and Coach Belichick). Green (7 ½ sacks) will need to be on top of his game every week now, and his "A-Game" may not be enough.
Overall, I think the situation will play itself out and the Patriots will be fine. But, don't get me wrong, this loss is bigger than the Harrison loss, and Seymour is the Pats most important and best defender on the team. They do have a rare knack for finding, out of the blue replacements, that excel to fill-in roles, though they have never replaced a player of this type of caliber that can do so much for the team, a standout capable of dominating on the defensive line like Seymour so often can; therefore you can expect the Pats to blitz more with their quick and instinctive, playmaking LB's – Adalius Thomas, Roosevelt Colvin, Mike Vrabel, and Teddy Bruschi. Look for Coach Belichick to up the "ante" here and have his squad become more aggressive than ever, rushing the QB with an assortment of different players, stemming from the secondary and LB position, to help the defensive line's contribution.
With the five-time Pro Bowl defensive end sidelined for at least the first six weeks of the regular season, Jarvis Green will be playing more for the New England Patriots – and snacking less."I can't mess around eating sunflower seeds out there (on the sideline) when it's time for the game, I'll tell you that," Green said with a laugh Wednesday as the Patriots prepared for Sunday's opener at the New York Jets in the Meadowlands.
Not that Green isn't used to filling in, he is a good alternate to replace Seymour, if their had to be one on this team. Green has made a career as a valuable sub working behind New England's talented starters: Seymour, defensive end Ty Warren and nose tackle Vince Wilfork. "I've had five years of going in when guys go down," Green said. It was the second blow to the Patriots' defense in two days, after the NFL on Friday suspended safety Rodney Harrison for the first four games of the season for violating the league's substance abuse policy. To take over Seymour's spot (filling his shoes), the Pats are expected to turn to this Bayou Bengal Green, if this does not work out, you can see 270-pound OLB Adalius Thomas get some exclusive work at end, with Colvin (former DE at Purdue) getting some reps also.
It will be a tough job ahead for Green to become "Nike-good" when he is only at a "Spalding-good" level. These will certainly be tough shoes to fill, as Green's tall task mounts in front of him; with all eyes on him now, will he be able to respond to the gigantic, enormous amount of pressure that may be put on his shoulders, in just a small time to make a response (better be quick). Patriots fans soon may see their team's hope shattered if the defense does not account for their losses, figuring out who will replace Seymour and Harrison.
Thomas, a hybrid DE/LB, my first choice in-line, would be the ideal fit legitimately because of his skill, as he could turn into a very good pass-rushing phenomenon at RDE. He has the quickness off the edge, sack numbers, ability, speed, size, and strength to fill-in more than adequately/admirably. The Southern Miss Golden Eagle would "fly" to the occasion and lead the team in sacks, if the team decides to go this route. He would bring a much-needed, mean streak to the field (think: Under Armour commercials) and fire to the line, and I'm sure the Patriots staff is also considering/contemplating the "eventual" switch from him to LB over to DE (mauling a big decision).
This move would help the Patriots on third-down passing situations, as teams would now have to key not only on Warren and Wilfork, but also Thomas, on the defensive front, as a down-position specimen, used as a disruptive force to get to the QB's – scary-good proposition, (think: Derrick Thomas, Otis Wilson or DeMarcus Ware). Replacing him then at OLB would be Rice's "own", Owl, Larry "H-to-the" (Jay-Z) Izzo. This loss makes the shaky depth at LB more relevant and visible, with AARP-card carrying, senior-discount coffee grabbing, go to bed at 7pm, Junior Seau, and Pierre Woods, being the only viable replacements to rely on.
"I'm very excited," he added. "It's a great opportunity, but it's also a great opportunity to get better." With Seymour not practicing during the preseason, Green worked with the starting unit. He said that experience was valuable. "Not much has changed," he said. "You've got to be prepared for the worst around here because anything can happen. I think that's our strength as a team." A fourth-round pick out of LSU in 2002, Green has started 21 regular-season games. One of his four starts last year came in a 17-14 home loss to the Jets, when he filled in for an injured Warren.
Last year, Green set a career high with 57 tackles and tied for second on the team with 7 1/2 sacks. "Jarvis has done a great job since he's been here," Patriots coach Bill Belichick said. "He's a productive player. He plays with a lot of confidence. He works hard and prepares well. I'm sure he'll be ready to go."
Coming off the bench, Green had 2 1/2 sacks in the AFC championship game victory over Indianapolis following the 2003 season. The next year, with Seymour nursing a knee injury, Green started all three playoff games as the Patriots won their second straight title. "I really like Jarvis," said Jets coach Eric Mangini, the Patriots' former defensive coordinator. "He's a guy you can always cheer for because whatever his role is, he does it willingly, he does it really well. He's got excellent natural strength; he's got good very pass rush ability and pass rush instincts. "It's an indication of how he's approached his whole career. He's been a diligent guy from the first day we got him as a rookie."