When the Eagles finally release quarterback Kelly Holcomb, there may just be some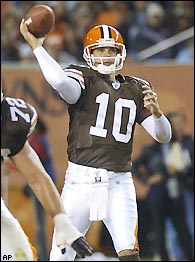 interest in him.  According to Kevin Seifert of the Minneapolis Star-Tribune, at least two teams are interested in Holcomb's services as a backup QB.  The Falcons, as you would expect (thank you very much Michael Vick), have inquired about Holcomb's availability.  The Falcons are down to Joey Harrington and Chris Redman.  The Vikings have also asked about Holcomb.
The Vikings will no doubt start Tarvaris Jackson at QB; the backup QB's they have are iffy, at best.  They have Brooks Bollinger, but he is pretty much an unproven commodity.  This could work in Holcomb's favor should he sign with the Vikings, as he has 21 starts under his belt, a much stronger arm, and because he has spent training camp with the Eagles, should be able to adapt to the Vikings offensive scheme.  The Falcons simply need a competent QB.  I have never been a big fan of Joey Harrington, and I have seen enough of Holcomb (especially when he started for the Browns) to know that assuming he picked up the Falcons offense, he could quite possibly start ahead of Harrington.
It just happens to be unfortunate that Holcomb is currently on a team that is set at QB for the short and long term future (the Eagles carrying Donovan McNabb, A.J. Feeley and future starter Kevin Kolb).  But I suspect that one of the aforementioned two teams will sign Holcomb to a contract.  But I'm not about to speculate on which team that would be.  But regardless – expect Holcomb to be released by the Eagles and for him to sign a contract before the season starts in September.