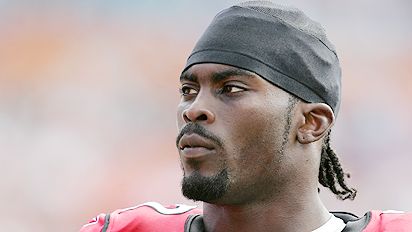 Following up on the Vick dogfighting story reported right here at NFL GRIDIRON GAB, Larry O'Dell of the Associated Press reports that Atlanta Falcons quarterback Michael Vick will plead guilty to federal dogfighting conspiracy charges.  This development will more than likely end his career with the Falcons and quite possibly the National Football League, not to mention the chance of him being imprisoned.
The charges in question carry a penalty of up to five years and a $250,000 fine; however, federal sentencing guidelines probably would call for a less severe penalty.  In a statement provided to the Associated Press, Vick defense attorney Billy Martin said, "After consulting with his family over the weekend, Michael Vick asked that I announce today that he has reached an agreement with federal prosecutors regarding the charges pending against him.  Mr. Vick has agreed to enter a plea of guilty to those charges and to accept full responsibility for his actions and the mistakes he has made.  Michael wishes to apologize again to everyone who has been hurt by this matter."
A grand jury was convening in the event of a possible trial; because of the plea by Vick, more than likely no additional charges will be brought against Vick. The plea hearing wiull be held on August 27.  What will be interesting here will be the punishment imposed by NFL commissioner Roger Goodell.  Because of the gambling charges that are hanging over Vick like a dark cloud, it is entirely possible that the commissioner could ban Vick for life in accordance to the league's personal conduct policy.
While in my opinion Vick did the right thing to accept a plea agreement, his lifestyle choice pretty much ensured that he will not be playing in the league any time soon, if ever.  So it is a matter of time before Falcons owner Arthur Blank releases Vick, while at the same time absorbing a big financial hit on the team's salary cap.  This is the cost of doing business sometimes, but at least the team will have that monkey off their back.  So I expect once all the smoke clears, the Falcons will regress as a team for the next couple years minimum, until they get a QB whose name is not Joey Harrington.