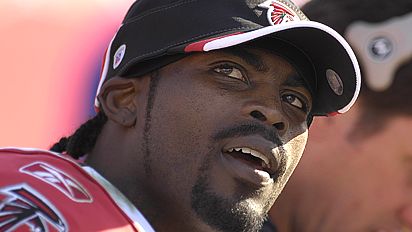 Sources are stating that part of the plea deal that Michael Vick would accept in order to avoid trial would include 12 to 18 months in prison. The outcome would mean that Vick would plead guilty to a felony count of conspiracy to travel in interstate commerce in aid of dogfighting and related gambling. If he takes his chances at a trial, those types of charges carry a sentence of five years and a whopping fine of $250,000.
One reason for the possible holdup in Vick simply accepting the deal is the fact that prosecutors have already stated that more charges may be coming, meaning that it could mean more jail time for Vick. The legal team for Vick also not only has the task of talking things over with federal prosecutors, they also are talking with league officials from the NFL about trying to save his career as a player in the league.
One of Vick's co-defendants, Tony Taylor, has already gone ahead and accepted a plea bargain last month and agreed to cooperate with prosecutors. A hearing for Quanis L. Phillips of Atlanta is set for 9 a.m. tomorrow in U.S. District Court in downtown Richmond. The hearing for Purnell A. Peace of Virginia Beach, originally set for today, is now set for 9:15 a.m. tomorrow.
Once those two men accept a plea bargain, it will mean that Vick is on his own, and it for sure would be in his best interest to try and get a plea deal done. If Vick does not accept the plea deal by Friday, he will face additional charges in a new indictment according to a spokesman for his attorneys. Sources also say that even with prison coming his way, Vick really is concerned about his NFL future. Commish Roger Goodell said earlier on Thursday that the league is going to overcome the damage that Vick has done with the charges against him.