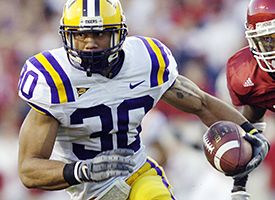 When the Redskins made LSU safety LaRon Landry their top selection with the sixth overall pick in the 2007 NFL Draft, talking heads around the country stuttered.
A safety?
Why, they asked, would the Redskins address the secondary – where three Top 10 picks already manned the roster – when the defensive line had been so atrocious in 2006? The answer? Maybe it's a little thing called the Cover 1 defense.
Gregg Williams, the Redskins' assistant-head coach defense, saw in Landry a unique talent. Equally adept at playing run and pass, the 6-foot, 213-pound athlete will give Williams a chance to go with the Cover 1. That, in turn, will allow him to dial up more of the innovative blitzes that helped Washington's defense perform as a Top 10 unit in 2004 and 2005.
In 2006, injuries – especially to the secondary – took many of those options away from Williams. With his cornerbacks suspect at best, Williams had to play soft, showing a lot of Cover 2 defense. The result was a benign unit that gave up more big plays than it created.
The thinking around the Landry pick (not to mention a host of off-season additions addressing cornerback depth), is that a better secondary will force opposing quarterbacks to hold the ball longer. That, in turn, will give defensive linemen and other blitzing Redskins more time to swarm the quarterback.
Not to mention more opportunities for the man commonly referred to as "Meast."
Meast, of course, is the nickname teammates have given Sean Taylor – as in "half man, half beast." As injuries piled up last year, Taylor was asked to shoulder an increasingly large load. The defensive line was porous against the run and linebackers often missed tackle opportunities, which meant Taylor had to play closer to the line of scrimmage for run support.
While this tactic led to a team-high 111 tackles, it also meant Taylor had little room for error on play action fakes or passing plays, in general. Sometimes, Taylor starting two steps closer to the line of scrimmage was the difference in a pass defended versus a long completion that kept the Skins' D on the field.
That's just one reason why coaches seem so excited with Landry.
Contrary to Williams' past preference, the rookie who ran a 4.34-second 40 at the NFL Combine is spending much of preseason practice working with the starters. In particular, Williams seems intent on developing chemistry among his uber-athletic safety tandem.
While recent defensive rookies like Taylor and cornerback Carlos Rogers have been forced to wait at least three games into the regular season for their first NFL start, Landry's rare combination of size, speed and mental acuity appears to be too much to keep off the field.
Especially since Williams thinks Taylor could rise to new heights in a Cover 1 scheme.
In simple terms, playing Taylor as a true free safety in the Cover 1 is similar to putting him in center field on a baseball team. His mental responsibilities will be fewer, his freedom greater. Often serving as the last line of defense, Taylor will be asked to keep the play in front of him, then break on the ball as soon as possible.
That's enough to get many of the Redskins' faithful salivating. Already known as one of the NFL's hardest hitters, Taylor also has incredible hands. During his final year at the University of Miami, the ball-hawking safety registered an impressive 10 interceptions and 13 passes defended in 12 games.
Adding to the optimism are reports that Taylor's trip to the Pro Bowl last season opened his eyes, fostering a level of dedication to off-season trainin g that didn't exist previously. In response to his new role and outlook, Taylor dropped from his 2006 playing weight of 232 pounds to a swift, sleek, center-field-like 212.
Even better, the only headlines he's made this off-season have come from standout plays on the football field.
While Washington could undoubtedly use more help along the defensive line, the coaching staff at Redskins Park is betting it's not a necessity. Instead, they hope their a ging but experienced linemen can earn at least a draw in the trenches, allowing everyone else to flow to the football with reckless abandon.
When the opposing quarterback doesn't handoff, the Skins will ask their corners to play more man coverage, giving Williams the chance to bring blitzes from a litany of players and places on the field.
And behind it all will be the man/beast known as Meast, performing a new role that should ask him to think less and react more.
As opposing players will tell you, Taylor's actions on the field often result in violent collisions and game-changing plays.
Hmm, giving your best defensive player a chance to make more big plays :maybe Landry at No. 6 isn't so fool hardy, after all.