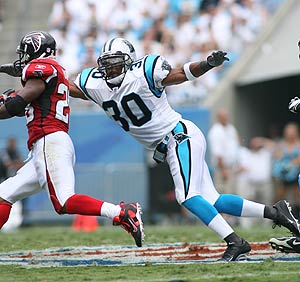 The career of Panthers safety Mike Minter is coming to an end, as the fan favorite will be announcing his retirement at a 1:30pm press conference in Carolina on Tuesday.  Minter is the all time career leader in tackles for the Panthers, and his veteran leadership for Carolina will be sorely missed.  The 33-year-old had already stated that the 2007 season would be his last, but stated last week that the condition of his knees were becoming a factor, and despite not missing a game since 2001, decided it would be best to walk away.
Minter was the Panthers second-round pick in the 1997 draft, and is the teams all-time leader with 953 tackles.  His 141 starts and 94 straight starts is also a team record.  The problems for Minter's knees started in college, as he developed a staph infection following a knee surgery in 1998.  He often went back and forth between free and strong safety, but always seemed to be solid no matter where he lined up.  At 5-foot-10, 195 pounds, he had a rep for being a solid hitter, and the highlight of his career would be the two picks for TD's he had during the teams Super Bowl season in 2003.
The move though of Minter leaving puts the Panthers in a big hole.  They were weak at the safety spot even with Minter, but without him, they really appear to be in trouble.  The team grabbed Chris Harris from the Bears last week, and he will likely be a starter with Nate Salley or Deke Cooper.  Salley has never played a down at safety in the NFL, and Cooper started 12 games at safety for the Jags in 05.