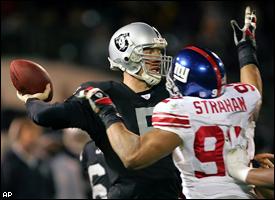 Michael Strahan has yet to make a 100 percent decision if he is going to play this season. This past offseason though, it looks as if the Giants defensive end was on the trading block. That is if you listen to his agent, Tony Agnone. A story in today's Daily News from Gary Myers says that with Strahan giving him the go-ahead, Agnone called some teams to see if there was any interest in the chance of trading for Strahan. Most of the calls were placed in March and April. One reason for the inquires was to see if another team would pay Strahan more than the $4 mil he currently is making in New York.
Myers states that there was "mixed results" from teams about Strahan, and when the agent told that to his client, Strahan quickly backed off. After all, he didn't want to screw up his great career by being just another player for another NFL team. Giants GM Jerry Reese didn't want to comment on the story, and according to Myers, the Giants did not have any knowledge about Agnone calling other teams offering the possible services of Strahan.
Right now the bottom line is that Strahan sits at home, being fined $14,288 per day for missing a training camp that he is under contract to be at. The team has already told Strahan that they are not going to give him a salary increase, and if he likes it or not, if he is going to play a down for Big Blue in 2007, it's going to be for the price that currently sits on his contract. A source told Myers in the article that as far as trade value for Strahan: "Not very much. There is not a lot of interest in him out there. Most people think he is done. His agents were thinking he was going to get out of there."
So it's now down to Strahan on what he is going to do. All the cards have been laid out. He's already made phone calls to Reese and coach Tom Coughlin, and both have said he'd be welcomed back at camp. Of course Strahan is playing all the ploys he can to try and make the Giants pay more. Problem is, it does not look like it's working. The choice for Strahan is pretty clear – play ball with the Giants, or don't play at all.