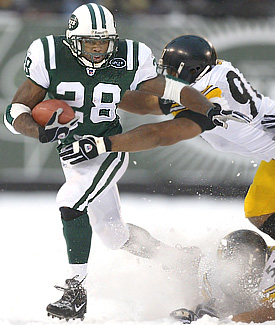 The best running back in New York Jets history is about to call it a career.  According to the New York Post, Jets great Curtis Martin will announce within the next 48 hours that he is retiring; he expects to make a formal announcement just before training camp begins for the team, according to the team. Training camp for the Jets begins on Thursday.
The timeline for Martin's inevitable retirement had been in place for some time; in the beginning, Martin agreed to void the 2008 and 2009 seasons in his contract.  In addition, the Jets took Martin off the PUP (Physically Unable to Perform) list, which accelerated his retirement timetable.  In 12 seasons with the New England Patriots and New York Jets, he rushed for 14,101 yards, scored 90 touchdowns.  He also caught 484 passes for 3,329 yards and 10 touchdowns. 
The only thing that has been unresolved to my knowledge is the claim that Martin filed with Lloyd's of London.  According to the language in the insurance policy, Martin can only collect on the policy provided that the injury in question to his knee was an injury that happened on the football field, as opposed to a pre-existing condition.  As far as I know, that has not been determined as of this writing.  But regardless, expect him to be inducted into the Pro Football Hall Of Fame.  His numbers should validate that.