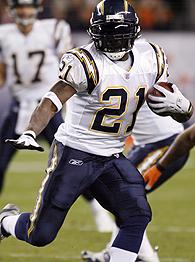 According to The Associated Press, LaDainian Tomlinson won four trophies at the ESPY Awards on Wednesday night, including male athlete of the year for his record-setting season with the San Diego Chargers.  Tomlinson beat out LeBron James of the Cleveland Cavaliers, Indianapolis Colts quarterback Peyton Manning, Wimbledon champion Roger Federer and Tiger Woods for athlete of the year.
Tomlinson also won best NFL player, record-breaking performance, and the Like Nothing Else award.  The NFL MVP scored 31 touchdowns and 186 points, both league records, and rushed for 1,875 yards.  Tomlinson declined to appear backstage to talk with reporters.  The Colts were named best team, while Tony Dungy, the first black coach to win a Super Bowl, captured the best coach-manager category.  Arizona softball star Taryne Mowatt won female athlete of the year and female college athlete honors.
Boise State's football team won awards for best game and best play.  The best moment award went to the New Orleans Saints, who returned to the Superdome for the first time since Hurricane Katrina and defeated the Atlanta Falcons on Monday Night Football.  North Carolina State women's basketball coach Kay Yow won the inaugural Jimmy V ESPY for Perseverance.  The Arthur Ashe Courage award went to Trevor Ringland and Dave Cullen from Northern Ireland.  Winners in all but the Jimmy V and Arthur Ashe categories were determined by online fan voting; ESPN stated that a record 12.5 million votes were cast.