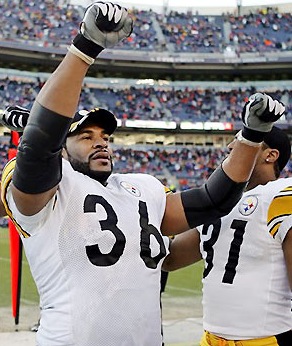 Former Steelers and future Hall of Fame running back Jerome Bettis is once again speaking his mind on former head coach Bill Cowher, and this time he is making a prediction on where Cowher will coach in 2008. Speaking on NFL's Total Access on Thursday, Bettis stated that he thinks Cowher will coach in 2008 in the Big Apple.
"He'll be coaching next year, and I really think he'll be coaching in New York," Bettis said. "That's just my take on it and thinking about the type of teams that he fits in good with, I think the Giants is definitely one." Many may remember that Bettis made headlines last season as a part of NBC's Football Night in America crew when he said early in the year that 2006 would be Cowher's last year in Pittsburgh. He was right.
But will Cowher really be the Giants coach next season? It could happen, as many already have current Giants coach Tom Coughlin pegged as a coach on the hot seat. Other teams that Cowher has already been linked to include the Washington Redskins, Cleveland Browns and Carolina Panthers. Cowher will have plenty of chances to speak out for himself, as this season he will be a part of the studio crew on the NFL Today on CBS.
Click Below to Hear Bettis' Comments on Cowher