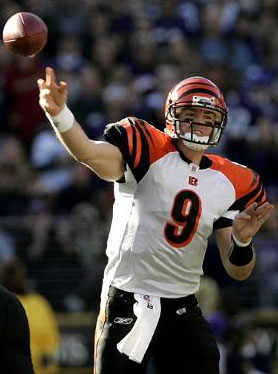 Since 1983, 13 quarterbacks have been selected first overall in the NFL draft.  Some have been busts while others now reside in the Hall of Fame. Let's take a look at them:
2007 – JaMarcus Russell, Oakland
Russell is the new face of the Raiders and their future is his to determine.  Still too early to say how his career willl pan out, but signs point towards a somehwat successful career.
2005 – Alex Smith, San Francisco
Alex Smith struggled in his first NFL season but showed some nice progress in his second season. The jury is still out on him but he isn't really looking like a bust right now.  With the improved personnel, could this be his breakout year?
2004 – Eli Manning, San Diego (traded to the New York Giants)
The younger Manning hasn't really lived up to expectations but has shown some flashes at times. Like Smith, the jury is still out on him but he is dangerously close to being considered a huge bust (Mom always did like Peyton best).
2003 – Carson Palmer, Cincinnati
Palmer has transformed into one of the elite Quarterbacks in the league. Assuming Palmer can stay healthy and win a Super Bowl he could be considered as a Hall of Fame candidate some day.  Heck, maybe not having a Super Bowl ring will get him into the HOF.
2002 – David Carr, Houston
Most people have Carr listed as a bust right now but I have a sneaking suspicion that his career will be ressurected in Carolina. Give him one more season as a starter before labeling him a bust.
2001 – Michael Vick ATL
Vick is an electrifying player but never really developed into much of a passer. His recent non-football issues are a definite problem but it's hard to label a guy who has done what Vick has as a complete dissapointment.  But he's pretty darn close.
1999 – Tim Couch, Cleveland
As Ned Flanders of The Simpsons would probably say, "He's a bus-diddly-ust".  I bet Cleveland wishes now that they would have drafteded McNabb instead.
1998 – Peyton Manning, Indianapolis
A definite first ballot Hall of Famer.  Manning could possibly (and probably will) end up leaving the game considered the best quarterback of all-time now that he has a Super Bowl ring.
1993 – Drew Bledsoe, New England
Bledsoe like most QB's has had his struggles but he also has had a long and fairly productive NFL career.  He isn't exactly what people hoped for but he's not a complete bust, either.  If you don't believe me just look at his career stats compared with some other NFL Quarterbacks.
1990 – Jeff George, Indianapolis
George should most likely be considered a bust despite a couple decent seasons. He served as an OK interim Quarterback for transitional teams but never materialized into a good Quarterback.  A less talented clone of Ryan Leaf.
1989 – Troy Aikman, Dallas
This Hall of Fame Quarterback was the leader of the Cowboys' Dynasty in the 90s. His legacy will be remembered forever.  A keeper for sure.
1987 – Vinny Testaverde, Tampa Bay Buccaneers
Vinny is a bust by most standards. He served as a decent backup and had his share of decent games but never truly lived up to expectations.  Why the Patriots keep him on their roster defies logic.
1983 – John Elway, Baltimore (later to Denver)
This Hall of Famer will also go down as one of the best quarterbacks in NFL history.  He is one of the few NFL players had the sense to take the high road and retire when he still had plenty of gas in his tank.
That's my take.  Some of you will agree or disagree.  Don't be afraid to put your two cents in.