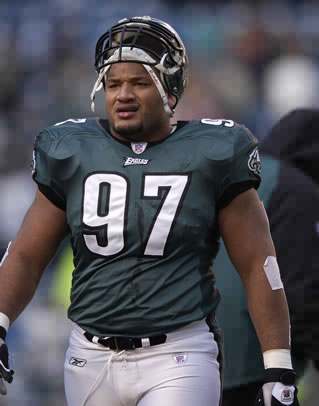 Talks between the Buffalo Bills and defensive tackle Darwin Walker stalled on Wednesday, and there is a chance that he may become a free agent. Walker joined Buffalo via trade when the Eagles sent him to the Bills in part of a deal that included the Eagles getting linebacker Takeo Spikes. Walker, who has two years left on his contract, has not reported to the Bills, and wants a new deal in place before he does.
"Whether we're don talking, I don't want to go that far," Walker's agent Albert Irby said to the AP on Wednesday. "I've got to hope they change their mind, because I can tell you we're not changing ours." Buffalo does have a clause in the trade contract with the Eagles that states if Walker fails to report to the team by August 5th that they would get a sixth-round pick in the 2008 draft from Philly. If Walker does not report, he goes back to the Eagles, who at that point would likely release him.
Marv Levy, Bills GM, has already stated that the team is ready to continue without the services of Walker, who was offered a one-year deal worth $1.3 million. That's the amount that he was to be paid this season in Philly. "It doesn't make any sense," Irby said of that deal. "At $1.3 million, Darwin would be the lowest-paid five-year starter in the league."
The last five years Walker has 26.5 sacks, and would be a solid fit with a Bills defense that is somewhat young and is the weak point of their team. Buffalo is set to report to training camp on July 25th, and Walker's agent is hoping they increase their offer by then. "They could be a strategy of theirs because nothing is going on between now and then," Irby said.