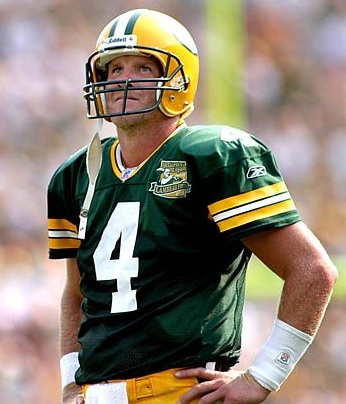 I think to start off let's get the short answer out of the way here: No, he shouldn't.  The common question asked by those questioning Favre's motives (all valid points, by the way): What's there to play for?  He's already in the exclusive 400-TD club, has a Super Bowl ring and has a special place among all the greats to ever play for Green Bay.  The answer is a little more complicated.  Favre may no longer be able to carry the Packers with his rifling right arm alone, but he can play a big part in helping a young team rise to contention with his head and heart. 
 
The Packers need Favre the leader now more than ever.  Aaron Rodgers, their first-round pick from 2005, is obviously in no position to take over at quarterback.  While Favre continues to be the NFL's ultimate iron man, Rodgers broke his foot last season in only his fifth career appearance.  It is true that Favre himself had some offseason ankle surgery but nothing that won't keep him from building on his regular-season consecutive games played streak of 237.  The bigger offseason issues were his unsuccessful urging of the team to acquire wide receiver Randy Moss and then dispelling rumors of his own desire for a trade out of Green Bay.
 
Last season Favre had to deal with green offensive linemen in front of him and no proven wide receivers other than Donald Driver.  This year, with his longtime backfield mate Ahman Green now a Texan, the new combination of rookie Brandon Jackson and Vernand Morency, acquired from the Texans early last season, puts a very different spin on the running game.  This season, Jackson and Morency are hopefully set to be a productive, versatile combination.  Favre doesn't need to put up MVP stats for the Packers to get to the playoffs. He has underrated players all around him, and he can help them all come together by being an efficient passer and leader.
 
The running game and overall defense are set to reemerge as strengths for the Packers. Favre can play off that, using high-percentage passes (West Coast offense) in a balanced offense to move the ball and his fiery savvy to motivate some of his much younger teammates.  And really, for the Packers to take advantage of the weak NFC North, they need the quarterback who can win now, and that's Favre. They need him in the short term as much as he has loved playing for them over the long term.  Indeed it is true that there has been rebuilding all around Favre the past few seasons, making many think he won't have another shot at the playoffs.  But at the same time he's in a good position to prove them wrong. And besides, the playoffs always are more fun when No. 4 still is around.