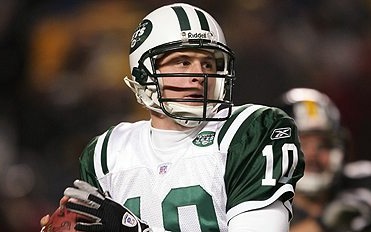 In a lot of ways, this is the second season of Chad Pennington's career. Chronologically, it's the eighth year in the NFL for the quarterback. But it's actually Year 2 under a new regime led by coach Eric Mangini and offensive coordinator Brian Schottenheimer. "After my first year with this system, the goal is not only what to do but how to do it and how to improve," Pennington said to The Associated Press during the New York Jets' minicamp Friday.
"To become expert at the system and understand the details. They are what decide whether you win or lose. "The first year was learning how to line up and do your assignments. The second year, you do the finer details with adjustments — find the things you can do better to make those adjustments to do your job better."
For Pennington, mastering the current offensive approach shouldn't be a problem mentally, because he's one of the more cerebral quarterbacks in football. And now that his throwing arm is healthy and possibly stronger than ever, the physical challenge shouldn't be that tremendously daunting, either.
A year ago, Pennington had to take baby steps coming off the second surgery. He was part of a four-quarterback rotation during minicamp and didn't truly test the arm until training camp began in late July. However this week, Pennington has made every kind of throw — and looked quite sharp with all of them, according to receiver Laveranues Coles. "Chad's been on-target," Coles said.
Feeling confident in his arm has led to a spiraling confidence in the Jets' offense. Day by day, Pennington is getting a better feel for the nuances of it. It only gets there if the quarterback can let the ball fly with no reservations. Pennington couldn't do that 12 months ago. Now, he can. "Last year, I was trying to make sure I could get on the field, call the plays and make as many throws as possible," he said. "This year, I have all of the confidence in the world to make all of the throws and all of the different types of ball placement that we need to make, and I can work on those."
Mangini appears even more certain than ever that Pennington can lead the Jets even deeper into the playoffs. "On the field, you can see him drawing on the experience of last year, taking things and advancing the system," the coach said. "He is such a smart guy with a great memory, you tell him something once, it may have been three weeks ago, and when that comes up, he nails it."