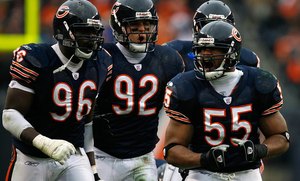 You have to love outlandish trade rumors. After all, isn't that what sells newspapers and keeps readers coming back to websites day after day, week after week?  With that, the Philly Inquirer has come up with one deal that would be a blockbuster of blockbusters, involving two huge names.  The names – Donovan McNabb and Lance Briggs.
The rumor has the Eagles, who know that Donovan is whining about the team drafting QB Kevin Kolb, trading McNabb to the QB starving Bears for linebacker Briggs, who has stated he will not play for the Bears again.  Briggs, at 26 years old, would be a huge upgrade at the LB spot for the Eagles, while McNabb would upon his arrival, become the starting QB for the NFC Champion Bears.
Now of course this deal is more likely to happen in fantasy football than the real NFL, but it does make some legit sense for both teams.  Briggs fills a needed position for the Eagles, who showed last year they can win a division title without McNabb.  The Bears showed in the Super Bowl why they should keep their options open at QB, as Rex Grossman proved that Jim McMahon would be an upgrade right now for Chicago.
The two teams also would be getting rid of problem situations that they are currently in with each player.  I don't think anyone can believe at this point that McNabb is happy wearing wings.  He had to come out time after time, as has coach Andy Reid, and cooled the flames of what appears to be a total inferno when it comes to his displeasure with the team.  Briggs has basically already just been upfront with the Bears.  In no uncertain terms he has said – "I don't want to play here anymore."
So it sounds like a perfect match.  McNabb wears black and is the new hero in Chicago, where he would be given the key to the city if he can come in and not melt down like Grossman. While in Philly, the city embraces Kolb and new LB Briggs, who makes big plays all over the field as the new workhorse of the defense.
Will it happen?  I wouldn't put any money on it.  Can it happen?  Well, anything can happen, but as stated above, this is the NFL, and trades of this size are few and far between.  But it's always nice to imagine.